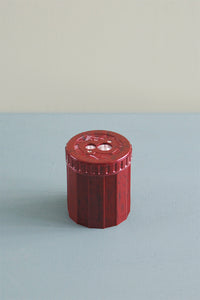 Nostalgia Double | Burgundy
Regular price
$12.00
$0.00
Unit price
per
Singel pencil sharpener made from Duroplast (a close relative of Bakelite and Formica).
This sharpener has a vintage oldfahion look in a classic dark green color.
Suitable for all pencils up to 12mm wide.
Duroplast is a fibre-reinforced plastic, most famously used for the bodywork of the Trabant - the people's car of the German Democratic Republic.  It has a compact and durable shell, and the strong sharpener inside could be described as it's little engine.

Color: Burgundy
Replacement blades available.
---