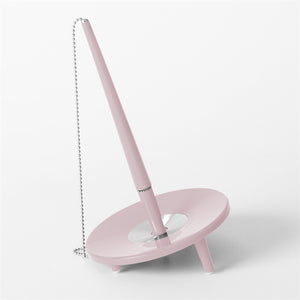 Retro Desk Ballpoint | Heather Purple
Regular price
$16.00
$0.00
Unit price
per
This deskset design was launched in 1961 and is still very popular at the homeoffice or office space.
It is delivered with a original medium ink cartridge in traditional blue and refills are available. The quantity of ink will let you write or draw for 8000 m and is document-safe.

The deskset is made of cellidor, an extra durable plastic that makes it less breakable.
Cellidor is an organic, thermoplastic cellulose ester (CAP- cellulose acetate-propionate) containing a high proportion of the renewable natural material cellulose. Unlike traditional plastics, it is only partially dependent on fossil fuels.

The purple pink and silver parts combined, gives this desk pen that vintage look.
---