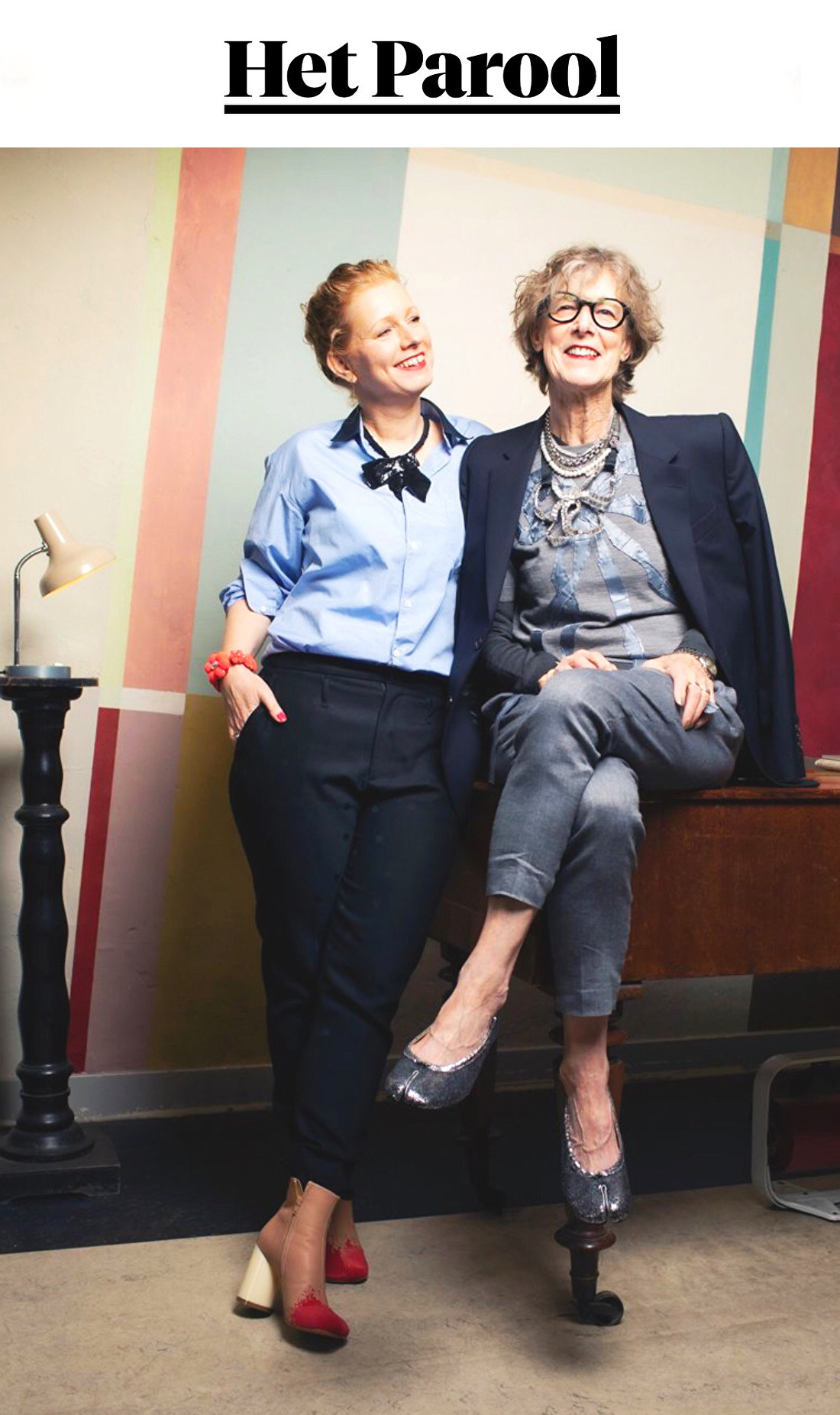 HET PAROOL - INTERVIEW FOR 'PARENT & CHILD' 29 DECEMBER 2020 - Text: Xandra van Gelder Photo: Harmen de Jong
Click here to read the Dutch newspaper version.


Margriet & Sanne: "This grandmother doesnt have time for a regular babysitting day"
Sanne inherited her mother's extroverted side, just like her love for colors and fabrics. As a child she went along to shows in Paris and Milan. "My mom is worldly and in high fashion, but also a woman who pulls a lamb out of a sheep in the middle of the night."

Margriet Nannings (75)
"My father had a flower farm and made beautiful field bouquets. I used to help him, but most of all I remember sitting next to the seamstress who mended the broken overalls and made doll clothes from leftover patches.
Sanne was always drawing in her room. She once made a bustier with all kinds of flowers and plastic bunches of grapes on it for a singer to wear on stage. Sometimes she designed fabrics for me, such as a silk printed with petit fours. It is really fantastic.

When I was young I had my own boutique, but with small children it was too busy so I started working for couturier Frank Govers. Later on I started my own business again. Everyone in the family helped out. My husband Frans and son Ånne took pictures, and Sanne came to the trade fairs. At the fair in Paris, Sanne could easily model when a customer wanted to see a piece. She still goes with me. So funny: when we look at collections separately, we almost always make the same choices. It's wonderful to have her next to me.

We designed her wedding dress together. We wanted to spray the underside of an ecru taffeta silk with red paint. At first that paint sprayed all over the place, which was quite dramatic. On the second attempt it worked.
I used to make almost all the clothes for my kids. For Ånne, my son, I once made an outfit from a mailbag. The kids at school thought it was strange, but he was proud of it. I also knit sweaters from the wool of our own sheep. I still have all those old clothes, I can't get rid of them.

For a number of years now, Sanne has had a shop selling luxury paper, office supplies and her own designs. She is strong in creating an atmosphere and developing her own ideas. She is now in the store where I once started.
Sanne is a tough mother, she is not afraid of anything. I love being a grandmother - also to our son's daughter - but this grandmother doesn't have time for a regular babysitting day. Of course we sometimes discuss whether Sanne will take over the business. I have no doubt she can do it, but it is hard because you have to invest a lot and there are so many risks. We have worked hard and had golden times, but nowadays it feels more like a game of roulette.
I never think about quitting. I'll die with my boots on. "

Sanne Dirkzwager (49)
"Years ago we were at Fashion Week in Paris. We heard from everyone that Katharine Hamnett was going to put on a great show, but we had no tickets. So Margriet said: lets just go, maybe we'll can nab a place. It was in a small circus and we ended up right upstairs.

The lights went out, and I heard "I've got the power" by Snap blaring over the speakers. Then the spotlights came on and the models came out. Once outside I thought: anything is possible.

Margriet was the only girl growing up with eight brothers. She's not afraid of anything, dives into everything and is boundlessly optimistic. At the same time she is very modest. That's why I thought it was such a shame that we couldn't celebrate her 75th birthday in a big way because of corona. We asked her loyal customers if they would like to write something on a card for Margriet. I made it into a box full of printed cards with personal messages and memories. With my husband and sons I went to their farm beautifully dressed carrying that box, a series of metallic balloons, flowers and a delicious cake.

I get my extrovert side from Margriet, but now I also look to my father. He is wise, modest and subdued. The older I get, the more I gravitate toward his calm. My brother Ånne and I always used to play outside. We had chickens and a few sheep. When the lambs had to be born, my parents slept with a baby monitor by the bed.

Mom worked at home and made extravagant pieces for designer Frank Govers. I can still see her coming home with the most fantastic silks and embroidery. She made the nicest sets for my Barbie dolls from the pieces that remained. I still have them. In her studio there was a cupboard with spools of thread and strips of fabric in an abundance of colors. I always played with those, and I think that's where my love for colors, prints and fabrics was born.

When Margriet started her own business, I went along to fairs and shows in Paris and Milan. We still go together because I like it, but also because it inspires me for my own work. We sometimes talk about what would happen if Margriet stopped. I don't know if I want to take over the company. On the outside, the fashion world seems full of glitter and glamor, but it is also very tough.

Fortunately, Margriet is unstoppable. On one hand, she is worldly and in high fashion, and on the other, she is pulling a lamb out of a sheep in the middle of the night. Margriet will always be a girl.